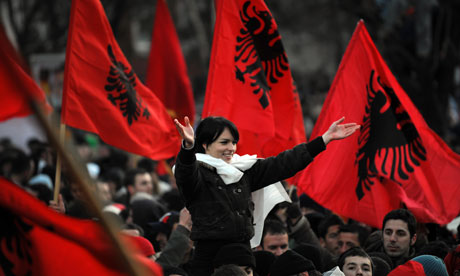 The highest United Nations court is planned to release estimation on whether Kosovo's 2008 declaration of independence from Serbia was legal.
Serbia filed the case with the International Court of Justice in 2009, saying that the statement by Kosovo's ethnic Albanian leadership was a "flagrant violation" of Serbia's territorial integrity.
Serbs, who consider Kosovo to be the birthplace of their national identity, misplaced control of the territory in 1999, when a NATO bombing campaign ended a war between Serbian forces and Kosovo's ethnic Albanians.
The ruling by the court, which is based in The Hague, Netherlands, will be nonbinding and optional -- but experts say the decision could have implications for other regions with separatist movements.
The court heard arguments on the case from nearly 30 countries. Countries with China, Russia, and Spain, which have been dealing with their own separatist regions, argued beside Kosovo independence, while the United States led those in support of independence.
Kosovo's independence has been familiar by around 70 countries, including the United States and many European Union member states. But a diplomatic campaign by Serbia has led other countries to hold off recognition.
On the eve of the ruling, Vice President Joe Biden presented assurances of U.S. support to Kosovo's Prime Minister Hashim Thaci.
Memli Krasniqi, a Kosovar government spokesman and supporting adviser to the prime minister who attended the July 21 meeting in Washington, said Biden pledged that the White House "will stand behind Kosovo no matter what."
Krasniqi said economic issues, the rule of law in Kosovo, and Kosovo's potential Euro-Atlantic integration were also discussed.
A White House statement said that through the meeting, which was also attended by other top U.S. administration officials, Biden "reiterated the United States' compact support for Kosovo's sovereignty and territorial integrity."
Prior this week, the Kosovo prime minister pledged to value the opinion of the international court -- but further that the independence of Kosovo was "irreversible.